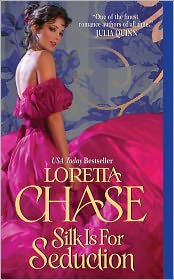 The editors at Amazon have selected the Top 10 Romances of 2011.
Topping the list is one of the books I enjoyed most this year, Loretta Chase's Silk is for Seduction.
Another of my keepers from 2011, What I Did for a Duke by Julie Anne Long, also made the top 10.
Here's the complete list:
Silk is for Seduction Loretta Chase
Archangel's Blade Nalini Singh
Seduction of a Highland Lass Maya Banks
Dragon Bound Thea Harrison
What I Did for a Duke Julie Anne Long
Breaking Point Pamela Clare
Dreams of a Dark Warrior Kresley Cole
Heart of Steel Meljean Brook
Unveiled Courtney Milan
Amazon also has a list of Top 10 Romance Kindle books. The list is exactly the same as its Top 10 Romances of 2011.